0
Aruhat
DataCrops
TeleOSS
Follow Us on :
ARUHAT NEWSLETTER
May 2015
Important Announcement for VIBGYORtel SMS Service Users
With an intent to increase our services uptime, and to enable us to seamlessly upgrade services at our end, we have revised URL for service access
The revised URL for web access is: http://apps.vibgyortel.in/apps.
Get more details here: http://vibgyortel.in/announcement-new-url-for-seamless-sms-services
ENJOY THE SERVICES

---
Celebrating 11 Years of Aruhat
May 14, 2015, we celebrated 11 Years of Aruhat. We Thank all our Clients, Partners, Vendors, Team and every stake holder for their continued trust and support
Do check how we celebrated this special day: http://aruhat.com/gallery/year-2015/aruhat-11th-anniversary

---
Another 'Online Tire Retailer' benefits from our Competitor Price Monitoring & Pricing Intelligence Solution
Our Competitor Price Monitoring & Pricing Intelligence Data Service has enabled a UK based Online Tire Retailer to regularly fetch latest Pricing of all Competitor Product ranges, automatically apply the best Pricing Policy considering the competitive pricing And even add any missing products that they don't offer but the competitors do into their offerings
A scheduled service has already enabled their business to see more sales & inquiries
Know more about our Pricing Intelligence Solutions, Click Here

---
Enabling 'A Channel Data Solutions' Company with our Web Data Extraction Services
We have successfully started delivering scheduled Web Data Extraction services to a 'Channel Data Solutions' Company, having Offices in USA, Canada, UK & India. They are serving one of their eCommerce Clients with Data Solutions related to Competitor product information
Our Service includes regular delivery of web data from 30 Retailer websites based on Keywords & Product URL
Know more about our Web Data Extraction Solutions, Click Here

---
Another Client successfully starts generating B2B Leads Data
An Australian Company giving Lead Generation & Appointment setting Services has successfully started using our B2B Lead Generation Tool, to generate Lead Data of their exact Target Audience and serve their Clients
Know more about our B2B Lead Data Generation Tool, Click Here

---
An SMS Aggregator Client achieves 500% Growth with our TeleOSS SMS Gateway Software

Having being using a sharing based platform to give SMS Services, the Client was unable to scale it's business from current Volume of 10 million SMS per month, and maintain good services. On June 2013, they adopted TeleOSS SMS Gateway Software and started migrating their Clients & Aggregating SMS at their end. Today, in a span of exact 2 years, they have been able to successfully scale up their SMS Aggregation Business 5 times more than what they were stuck before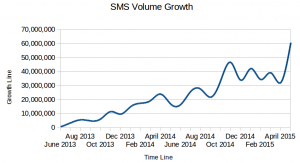 Know more about TeleOSS SMS Gateway Software, Click Here
TeleOSS SMS Gateway Software Update
– New Feature: Vendor connection wise TPS control, to avoid Throttling Error.
– Now Clients can use their own Client Portal GUI, by integrating it with TeleOSS GUI API
Share the post "Corporate Newsletter May 2015"