0
June 27, 2014. Ahmedabad, Gujarat, India.
Aruhat Technologies Pvt. Ltd. has won 'The Best Software Product Company – Gold' Award at GESIA's 7th Annual Awards for Excellence , 2014.
Aruhat has been recognized for the competency demonstrated for TeleOSS, suite of products for MVAS delivery and highly satisfied clientèle across the globe. Aruhat's facilitates the reliable service delivery and technology agnostic platform to result in improved delivery throughput, lower TCO and improved customer experience.
Mr. Jignesh Parmar, CEO of Aruhat said "It has been a persistent effort to challenge our limits and go that extra mile to deliver best technology & business solutions to our clients. This award has instilled our belief and strengthened the faith of our clients in us; to deliver scalable, robust & innovative products despite highly competitive market. Cheers to the team & everyone ever associated with Aruhat. I present my Gratitude to all "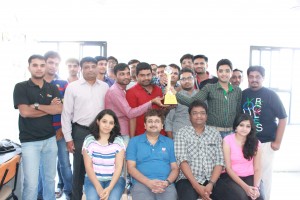 Aruhat Technologies is a India based software company, incorporated in the year 2004 in Ahmedabad, with a vision of offering technology for continuous business improvements and innovations backed by core competence'. It provides web data extraction and MVAS products, solutions & services that optimize data and communication technology. Aruhat is moving towards product based solutions around its emerging technologies with its new innovative approach of "Technology Enabling Business" to serve and extend its business reach to the global marketplace with its products DataCrops & TeleOSS.
Share the post "Aruhat Wins the 'Best Software Product Company' Award"